The All-New Synccentric
After months of HARD work, we're finally ready to run a phased rollout of the all-new Synccentric (V3) in beta! This new Synccentric is not just a visual redesign, but a whole new product — one that helps you solve the same old problems, but in simpler and more modern ways. It behaves differently with some added features and a completely new build that will allow us to develop more functionality faster than ever before.
Request Beta Account
Completely Redesigned
With the new minimalist design you'll be able to navigate and understand your data quicker.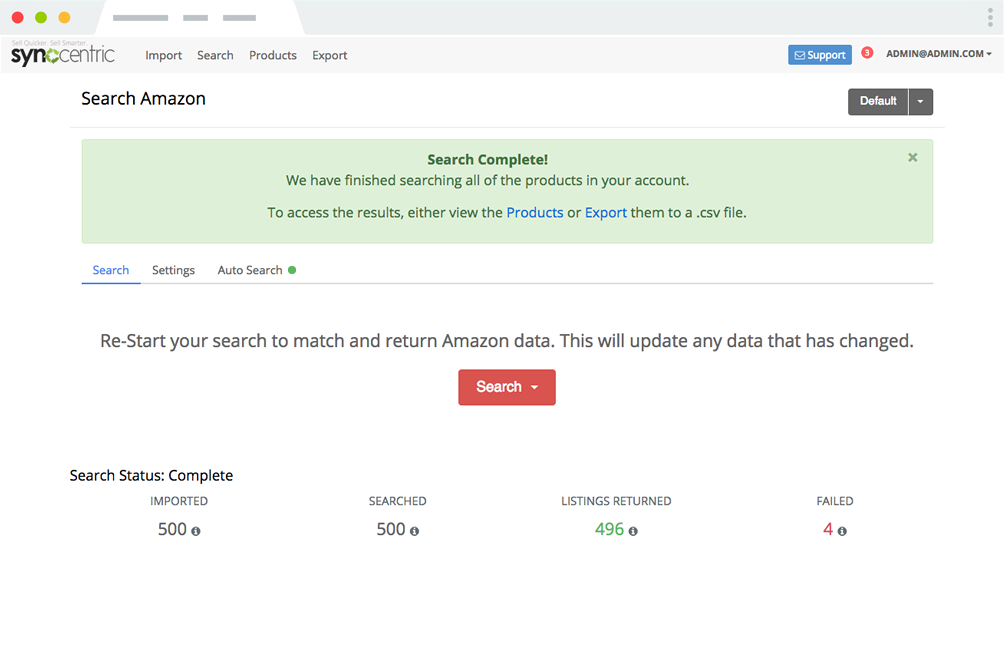 New Import Filters
Add multiple filters to your search to get the most accurate matches.
New Preview and Export Filters
Add important filters to analyze your data quicker and focus on the data that you need. Save multiple presets to generate different types of reports without having to keep changing your settings.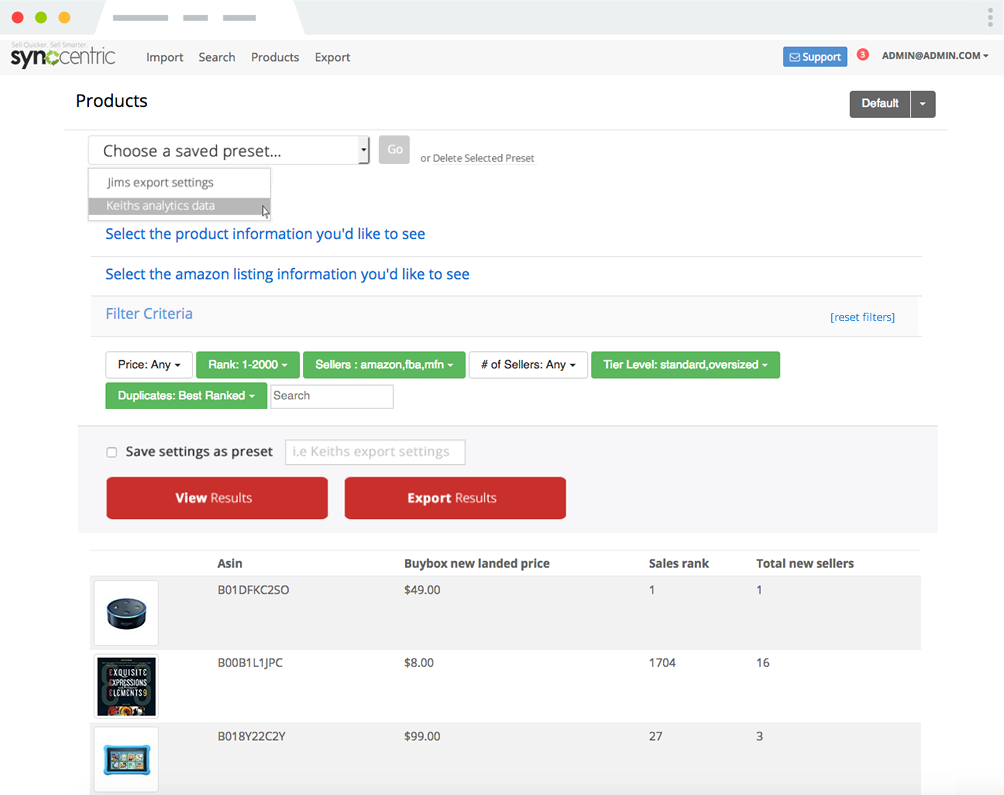 Other New Features
We have lots of other new features, some that will be rolled out immediately and others that will be added in phases:
Improved Sales Rank formula.
Historical data analysis for fields like sales rank and pricing.
New billing system for easier management of your subscription.
Added product attributes.
Ability to save multiple presets for product and export pages.
Import and Export both .csv and .xlsx formats.
Modules for product ratings and brand/seller/category search.
More campaigns for paid plans.
Frequently Asked Questions
We'll have more information on the features above as they are rolled out in beta. Here are some commonly asked questions related to the new Synccentric:
How Can I Access the Beta Version?
Please note that we'll be adding beta accounts slowly to start, so while we will do our best to get you access as soon as possible, there may be a wait depending on the volume of requests. You can request* access to the Beta version by emailing us or opening a ticket with the
subject line: "Beta"
.
Email:

Or open a
Support Ticket
*You must have a standard, premium, or enterprise plan to request beta access. Basic plans will not yet be granted access until the new Synccentric is launched.
Will the current version still be available?
Yes for during the beta stage of the new version and we are working to keep it available for a period of time after the complete launch of the new version as well.
Are you raising prices?
No, all plans will stay the same price. We may however be adding higher plans past the Enterprise 50k plan.
Why are you building a new Synccentric?
We wanted to make our system as SIMPLE as possible but have the ability to have it rich with features. The new platform will allow us to build new features quicker and process things faster for our growing number of members.
When will all of the features be available?
The new Synccentric will be rolled out in phases. Many of the features will be available immediately in the beta version. Other features like historical data will be added in the coming months. Our goal is to launch all new features and launch into production by end of summer 2017.
Is there a mobile version?
This is not yet available but we are currently working on making the new version mobile friendly and we should have this ready soon.
What to do if I find a bug?
Please report any bugs to us by emailing or opening a support ticket. We do our best to debug the system as much as possible before launching but there will always be things that sneak by. We greatly appreciate your help in finding these bugs during the beta phase so we can go to production as soon as possible.
Can I run a search on the beta system at the same time as the current system?
Yes but it won't be any quicker than if you run the searches independently. In fact it may even be slower running two searches at the same time. We ask that you try to use one system or the other to avoid complications with either version. The only exception to this is if you're using different MWS credentials or searching on different locales with different MWS credentials.
Will my custom module or app that uses your API work with this new version?
Not at the moment but by the time we reach production, any custom modules or connections to the old API will work with the new system.