Amazon ASIN Lookup Filter
Lookup Amazon ASINs in bulk by importing your file containing any of the following identifiers: UPC, EAN, MPN, SKU, ISBN, Keywords / Title. Add additional filters for accurate results.
1. Import your product identifiers
Import your product identifiers including any other custom data.
2. Retrieve Amazon ASINs
Search by UPCs, EANs, Part Numbers, SKUs, ISBNs, or Keywords. Our system makes the most relevant match and returns the ASIN and other data associated with the product and Amazon listing. Include additional filters (may require custom module) like Brand or Manufacturer filter to enhance search accuracy.
3. Manage or export results
Manage your product and listing data with a user friendly interface designed to filter the data you want to view, compare, and export.
View more product & listing data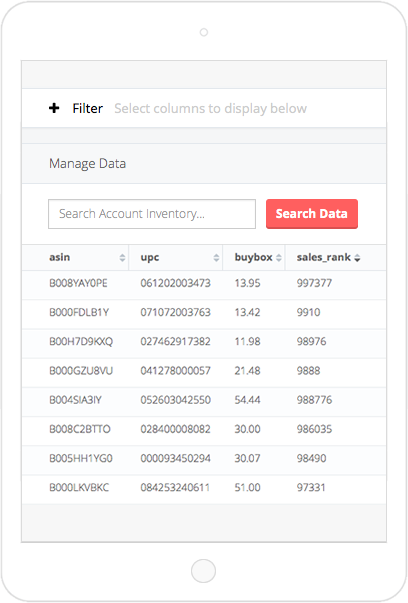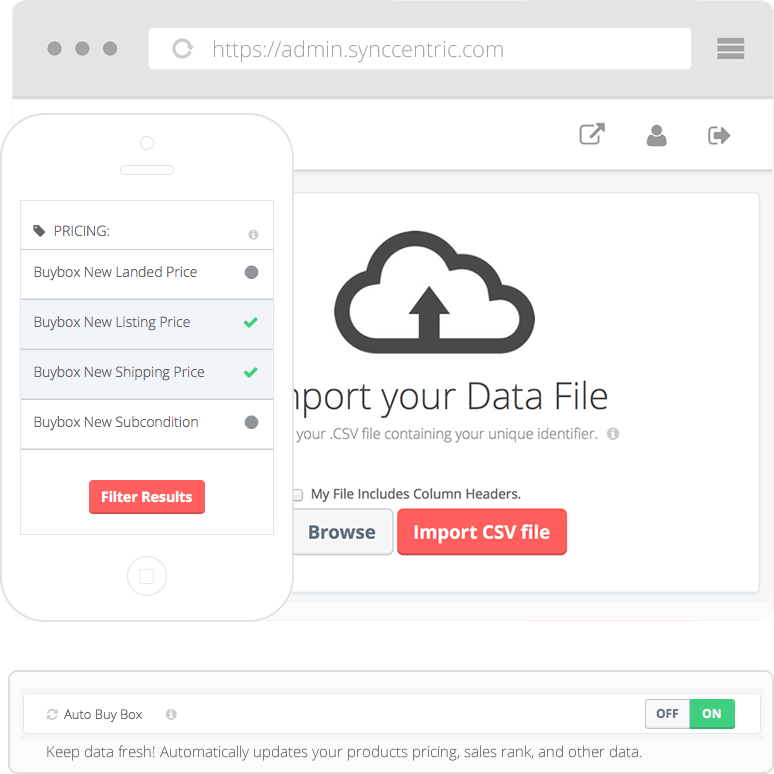 Buy-box pricing, sales rank, & FBA fees
Beat the competition. Gather pricing, sales rank, and estimated FBA fees to improve your sales strategies. Make smarter pricing decisions based on the Amazon listing data you retrieve from your bulk search. Explore all features
We have been using Synccentric for a variety of things...including leveraging your platform to help us with finding specific shipping dimensions and weight for items via ASINs...your platform is extremely helpful!

Brock Strasbourger, VP of Business Development at FANCY.COM
Find Amazon ASINs
Join our Basic plan for free and start retrieving Amazon ASINs that link to your identifiers. The quickest and easiest way to gather product and Amazon listing data.
Search with all Amazon locales
Connect to Amazon.com, Canada (.ca), United Kingdom (.co.uk), Germany (.de), France (.fr), Spain (.es), Italy (.it), Japan (.jp), India (.in), and China (.cn). Create separate campaigns for North America, Europe, and Asia.