Amazon FBA Fee, Revenue, and Profit Calculator Tool
Manage your Amazon seller fees with our bulk FBA fulfillment fee calculator. Import your unique identifiers (ASIN, UPC, SKU, etc.) and return the estimated Amazon fulfillment costs in bulk fashion for up to thousands of products per search.
1. Import your CSV
Import your CSV file containing your unique identifiers and any other custom data.
2. Retrieve Amazon FBA fees in bulk
Run the search which will gather all of the products pricing and shipping info and calculate the FBA fees for each product. Returns the following data: FBA Tier Level, FBA Order Handling Fee, FBA Pick & Pack Fee, FBA Weight Handling Fee, and FBA Total Fees.
3. Manage or export fees
Analyze the results of your FBA fee search in a user-friendly data management interface, or export the results back to a CSV file.
View other available data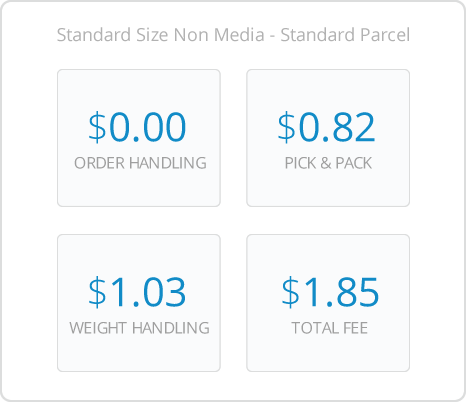 Amazon FBA fees in detail
The list below formulates the fulfillment by Amazon (FBA) fee structure. With this information we calculate your estimated fees for each product fulfilled by Amazon. All you need is your product identifiers and our system will handle the rest.
FBA order handling fee
A flat fee per FBA order that applies to certain tier levels.
FBA tier level
Based on the packaged unit weight and dimensions. Tiers include: Small Standard-Size, Large Standard-Size, Small Oversize, Medium Oversize, Large Oversize, and Special Oversize.
FBA pick & pack fee
This is the cost to physically retrieve the item, pack it and the packaging material used for the shipment. Fees are based on the cost of labor and the number of orders a person can process per hour, divided by their hourly cost.
FBA weight handling fee
This fee is the weight based shipping fee for Fulfillment by Amazon orders. This fee is calculated based on the weight of the item. For large-screen television units including plasma, LCS, projection, and CRT, this will include a Special Handling fee of $50 per unit based on size.
FBA total fees
This is the total fulfillment costs for FBA orders totaling order handling, pick & pack, and weight handling.
Analyze FBA fulfillment fees
Join our premium plan or higher to start calculating FBA fees for up to thousands of products per search.
Search Amazon Globally
Connect to Amazon.com, Canada (.ca), United Kingdom (.co.uk), Germany (.de), France (.fr), Spain (.es), Italy (.it), Japan (.jp), India (.in), and China (.cn). Create separate campaigns for North America, Europe, and Asia.