Lookup ASIN by Keyword or Title
Lookup Amazon product listing data including ASINs by importing your CSV file containing either keywords or product titles.
1. Import your keywords
Import your product keywords or titles. Import up to 15 additional columns of custom data to your account including your keyword column.
2. Search for ASINs in bulk
Search by your keywords, thousands at a time, and collect product identifiers (ASIN, UPC, MPN, SKU, ISBN, EAN) and Amazon listing data (pricing, sales rank, FBA fees, etc.).
3. Manage or export results
Manage data with a user friendly search-able interface which allows you to filter the data that you need and export the results.
Explore more product & listing data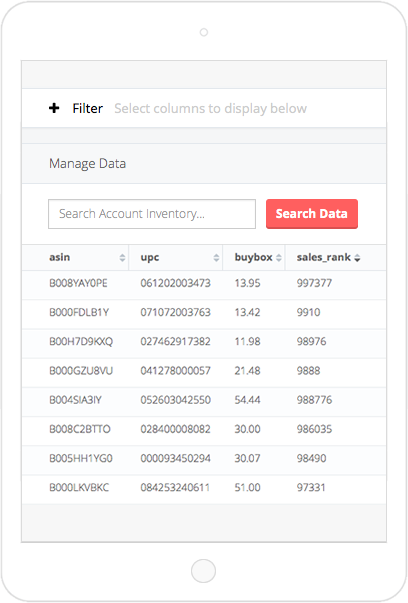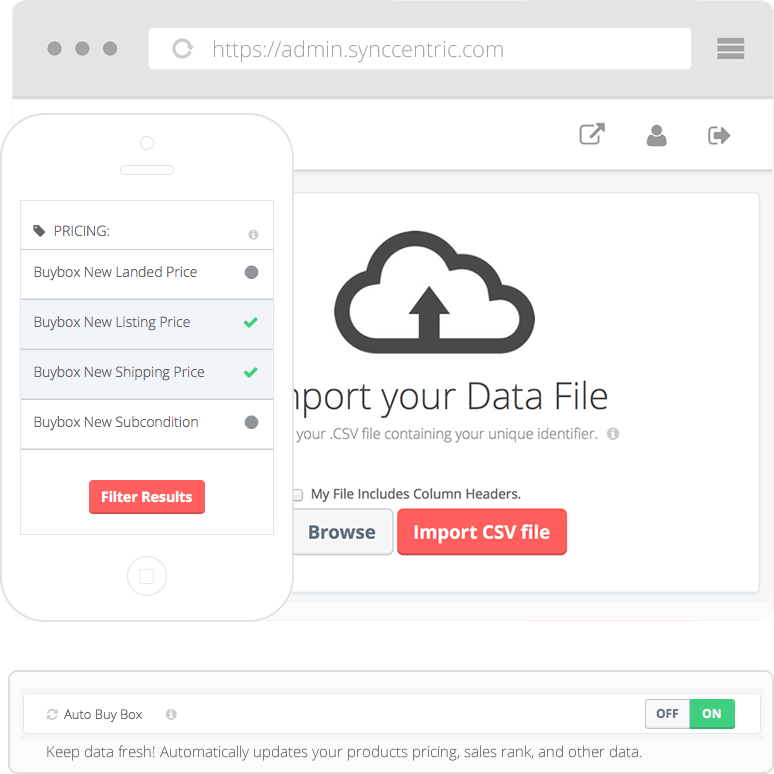 Filter by best Sales Rank
Keyword searches may return "duplicate" product listings if they exist - which means more than one listing per keyword. You can export all product listing matches or filter the "duplicate" listings that have the best sales rank on Amazon.
Explore all features
We have been using Synccentric for a variety of things...including leveraging your platform to help us with finding specific shipping dimensions and weight for items via ASINs...your platform is extremely helpful!

Brock Strasbourger, VP of Business Development at FANCY.COM
Import keywords & see results in minutes!
Import your CSV list of keywords or product titles and collect product listing results within minutes of creating your account.
Available Amazon locales
Connect to Amazon.com, Canada (.ca), United Kingdom (.co.uk), Germany (.de), France (.fr), Spain (.es), Italy (.it), Japan (.jp), India (.in), and China (.cn). Create separate campaigns for North America, Europe, and Asia.