Convert MPN to Amazon ASIN (or ASIN to MPN)
Convert your list of MPNs (Manufacturer Part Numbers) to ASINs (or reverse lookup ASIN to MPN). Single or bulk search mapping to product listings on Amazon.
Enter a ASIN, MPN, SKU, or Model Number:
Run your Search / Conversion in a Batch Process
Follow the steps below to import your MPNs / SKUs / Product Title / or ASINs in batches of thousands.
1. Import your Part Numbers or ASINs
Import your list of Manufacturer Part Numbers or ASINs in a single CSV column along with any other custom data you need.
2. MPN / ASIN conversions
Search Amazon for products that match your unique identifier (MPN or ASIN). Once a match is made – or multiple matches are made – we verify that the manufacturer part number, part number, or model number of that Amazon listing makes a match with your product list. Retrieve additional data including other identifiers (UPC, SKU, EAN, ASIN, MPN), pricing, sales rank, and more.
3. Manage or export results
View, compare, or export your results with a user-friendly search-able data management interface. Filter the data columns you need and keep a history of past exports.
Explore more product & listing data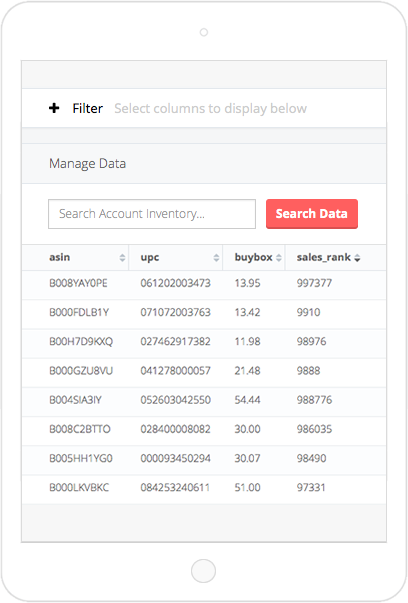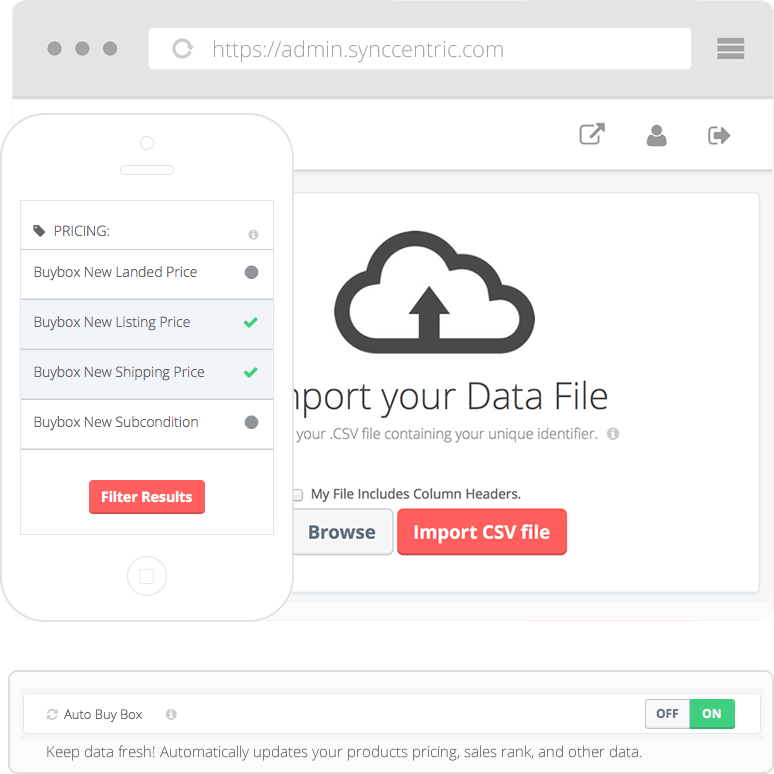 Competitor pricing, Estimated FBA fees, and Sales Rank
Sell on products that get the most visibility and sales using our Sales Rank tool. Get insight on the buy box pricing, lowest FBA or Merchant offer, and how much it will cost to fulfill your order via Amazon. Explore all features
We have been using Synccentric for a variety of things...including leveraging your platform to help us with finding specific shipping dimensions and weight for items via ASINs...your platform is extremely helpful!

Brock Strasbourger, FANCY.COM
Lookup & return MPNs / ASINs today
Get started now, just import your CSV file and click convert to retrieve the data you need!
Available Amazon locales
Connect to Amazon.com, Canada (.ca), United Kingdom (.co.uk), Germany (.de), France (.fr), Spain (.es), Italy (.it), Japan (.jp), India (.in), and China (.cn). Create separate campaigns for North America, Europe, and Asia.