Amazon Sales Rank Lookup
Retrieve the Amazon Sales Rank using your products' keywords or unique identifiers (ASIN, MPN/Part Number, SKU, ISBN, EAN, or UPC). This tool is useful for selling competitively on Amazon and determining which listings of duplicate products to sell on.
Sales Rank Info
The best sellers calculation by Amazon is a reflection of recent and historic sales of all items sold on Amazon. The sales rank is updated hourly, ranking each product with a number – the lower the number means the better the product is selling in comparison to similar products in the same subcategory.
The sales rank is a good indication of how well a product is selling overall and is a great tool for selling competitively on Amazon in addition to finding the best listing to sell if "duplicate" products exist - meaning the same product but selling on multiple Amazon listings.
Real Time Amazon Sales Rank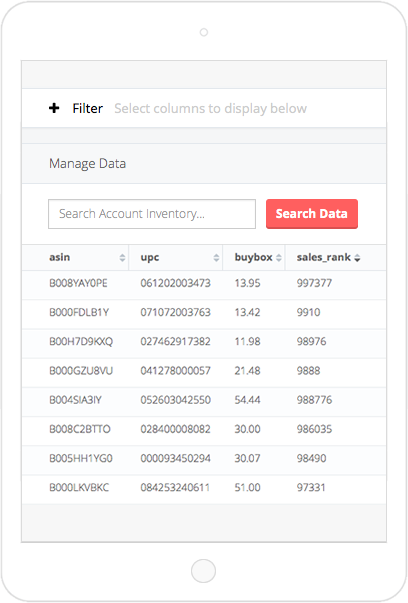 Real-time Amazon Sales Rank
On premium plans and higher, retrieve the real-time sales rank of your products automatically every 1-2 hours. Sales rank can change quickly - this feature keeps all of the products in your account up to date for making important decisions with the most accurate data.
Explore all features
Synccentric has been invaluable for gathering accurate product, sales rank, and price comparison data. Their platform is super fast and responsiveness on development projects always exceeds expectation. The best data partner we've worked with in this space!

Eric VanBeek, SAVINGS.COM
Retrieve the Sales Rank for your products
Join today and start collecting the Amazon sales rank for your products within minutes of registering your account.
Sales Rank for all Amazon locales
Connect to Amazon.com, Canada (.ca), United Kingdom (.co.uk), Germany (.de), France (.fr), Spain (.es), Italy (.it), Japan (.jp), India (.in), and China (.cn). Create separate campaigns for North America, Europe, and Asia.