Convert SKU to ASIN (or ASIN to SKU)
Lookup ASINs or SKUs correlating to the unique identifiers that you import. Convert ASIN to SKU - or SKU to ASIN - thousands at a time and return other Amazon listing analytical data that will give you an edge over other competing sellers.
1. Import your SKUs or ASINs
Import your SKUs or ASINs, along with any other custom data, to your account using a simple CSV file importer which allows you to select the columns you want to include in the import and which column contains your search-able identifiers.
2. Convert product identifiers in bulk
Our conversion tool allows you to match your SKUs (Stock-keeping Unit) or ASINs with Amazon product listings and return all identifiers (ASIN, UPC, MPN, SKU, EAN, ISBN), lowest pricing offers from FBA and Merchant Sellers, sales rank, and an array of other data.
3. Manage product listing data
Manage data with a user friendly interface which allows you to filter the data columns you want to view, compare, or export. Enable the auto-pricing feature to refresh, changing data such as pricing and sales rank every couple hours.
Explore more product & listing data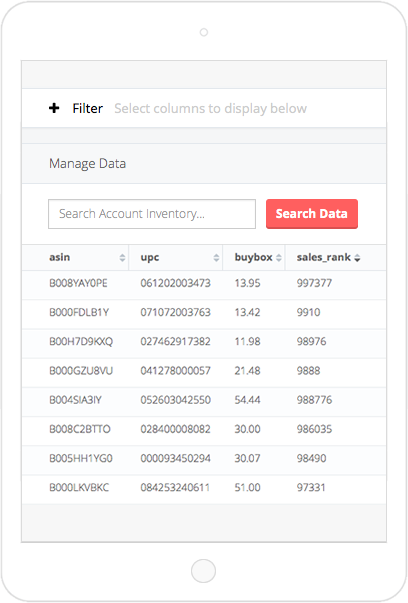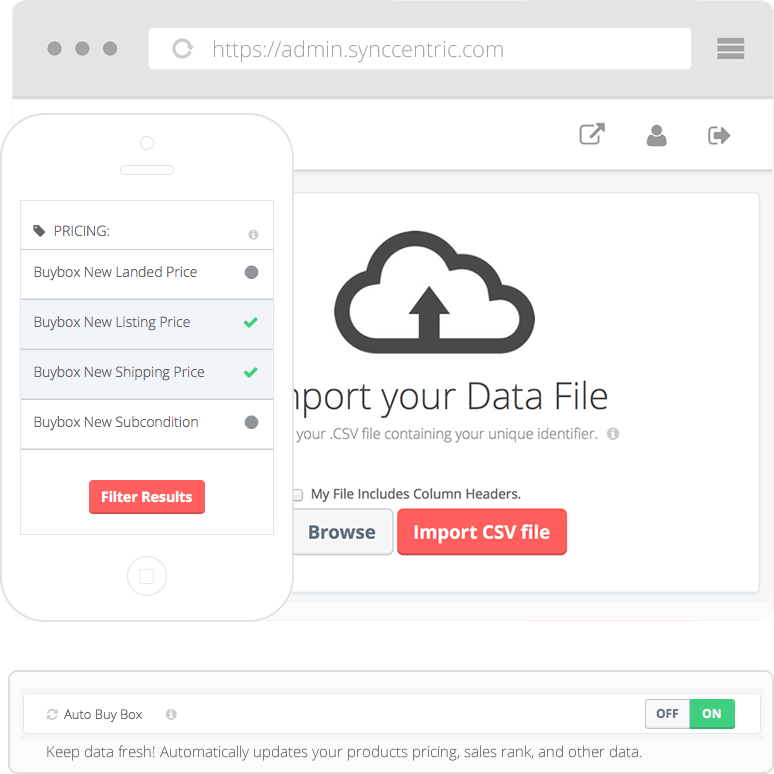 Lowest FBA/Merchant & Buy Box pricing, sales rank
Analyze the pricing of each listing including the lowest FBA offer, lowest Merchant offer, Buy Box price. In addition to pricing, see which product listings get more visibility and sell better based on the Amazon Sales Rank. See more analytical data
Synccentric has been invaluable for gathering accurate product and price comparison data. Their platform is super fast...the best data partner we've worked with in this space!

Eric VanBeek, SAVINGS.COM
Convert or Retrieve SKUs
Join our Basic plan for free and start converting or retrieving SKUs. Unlimited searches and plans that store up to 100,000 products.
Search all available Amazon locale websites
Connect to Amazon.com, Canada (.ca), United Kingdom (.co.uk), Germany (.de), France (.fr), Spain (.es), Italy (.it), Japan (.jp), India (.in), and China (.cn). Create separate campaigns for North America, Europe, and Asia.