Amazon ASIN to UPC Lookup
Retrieve Amazon ASIN numbers in bulk correlating to your UPCs (Universal Product Codes). Convert ASIN to UPC (or UPC to ASIN) and retrieve an array of other data to help list your products and sell more competitively.
How to Convert ASINs to UPCs in a Batch Search
Need to run a bulk search converting ASINs to UPCs (or vice versa)? Follow the steps below and save hours of manual searching.
1. Import your UPC or ASIN csv file
Import your UPCs or ASINs along with any other custom data. Simple CSV importer allows you to preview your file and select the columns you want to import.
2. Convert in bulk (up to 100k at once)
Our system searches for the products that match your uploaded ASINs or UPCs and returns as much data as possible including identifiers (ASIN, UPC, MPN, SKU, EAN, ISBN), pricing (buy box, shipping, lowest pricing for FBA and Merchant, list pricing), sales rank, and other product listing data.
3. Manage or export results
Manage data with a user friendly interface designed to filter the data you want to view, compare, and export. Automatically have your products pricing and sales rank refreshed continuously throughout the day.
Explore more product & listing data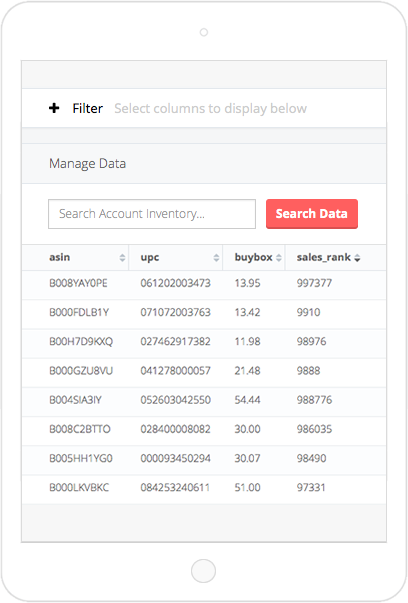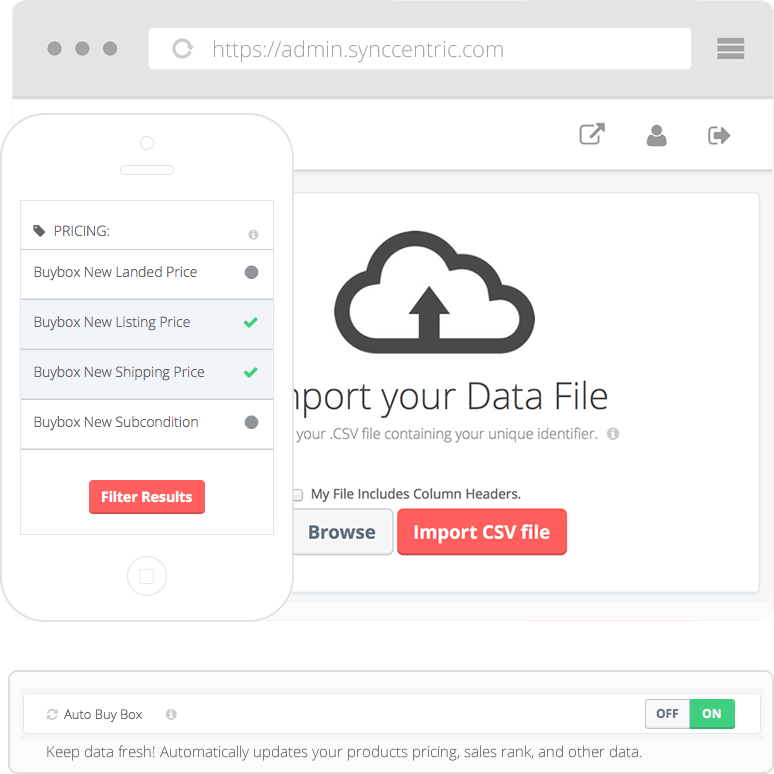 Buy-box pricing, sales rank, & FBA fees
Stay competitive with pricing, sales rank, and FBA fee analysis. The data we compile gives you an edge over the competition, like making smarter pricing decisions based on buy-box pricing, Amazon sales rank, and estimated fees for FBA sellers. Explore all features
We have been using Synccentric for a variety of things...including leveraging your platform to help us with finding specific shipping dimensions and weight for items via ASINs...your platform is extremely helpful!

Brock Strasbourger, VP of Business Development at FANCY.COM
Convert or Retrieve UPCs Instantly!
Join our Basic plan for free and start converting or retrieving UPCs. Our plans go up to 100,000 records with unlimited searches.
Search all Amazon locales
Connect to Amazon.com, Canada (.ca), United Kingdom (.co.uk), Germany (.de), France (.fr), Spain (.es), Italy (.it), Japan (.jp), India (.in), and China (.cn). Create separate campaigns for North America, Europe, and Asia.