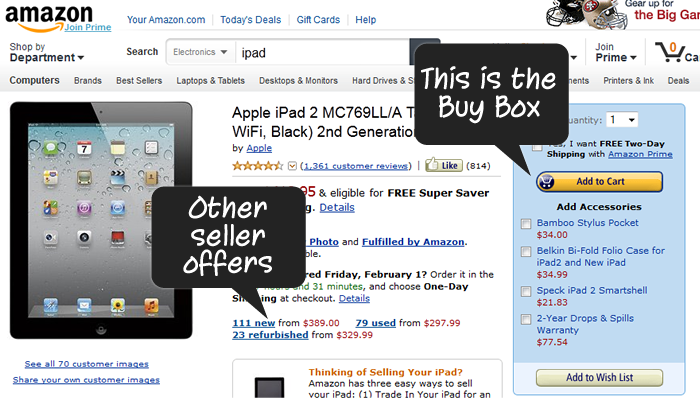 What is the Amazon Buy Box
So what exactly is the Amazon Buy Box? Amazon's platform is designed to allow multiple sellers to list their pricing on a single product listing. While the customer is left with a few different options for selecting the seller they'd like to buy from, Amazon offers a simple checkout button on the right sidebar of the page called the "Buy Box". Since this checkout option is so prominent on the page, it can offer a significant advantage over your competitors if you win it – this means the checkout button is linked directly to your offer. Without it, Amazon shoppers can still find your price under two other locations. One is by browsing offerings in the "More Buying Choices" box located below the Buy Box on the right sidebar. This section lists up to 3 featured sellers. The other option is by clicking "used & new" link which displays all offerings for the item.
How to qualify and win the Buy Box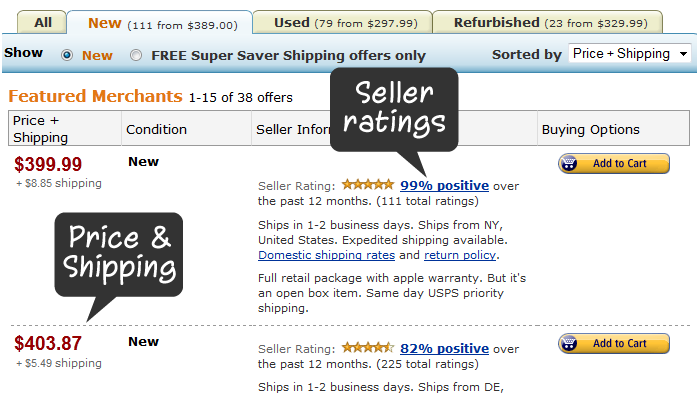 Before you jump the gun and start listing all of your products at the lowest price possible to win the Buy Box, you should know that there are requirements and many factors that play into which seller is selected for the money seat. First, you can only compete for the Buy Box if you qualify for Featured Merchant Status. This elite status is tied to seller performance criteria; those who consistently provide customers with a great buying experience. Once you've achieved this status, there are still a number of other factors examined that make up Amazons Buy Box algorithm. While Amazon doesn't provide an exact formula, it's no secret that the following is considered:
Seller's price compared to the pricing of other featured sellers. Important: You do not need to have the lowest offer price to win the Buy Box. Your pricing strategy should be based on how well you score in the other items listed below.
Seller's rating. A high rating can offer much weight.
Performance metrics. Chances are if you have Featured Merchant Status then you likely have great performance metrics like low returns / cancellations and positive feedback. Unfortunately…so do your competitors who have Featured Merchant Status. You'll earn more points if you can beat out your competitors in this area.
Inventory. Keep stock available and update your inventory levels. If your product shows 0 in stock, you cannot win the Buy Box. It's very common that sellers forget to update their inventory levels and miss out potential sales.
Sell sell sell! Your sales level can offer an advantage over your competitors; the more you sell adds credibility to your company.
I'm a new seller, how do I compete?
As a new seller, it seems like you're doomed from the start. But trust us, you're not. A large percent of people bargain shop on Amazon. Instead of clicking the checkout Buy Box, they filter through new and used sellers and commonly make their buying decisions based on price. As a new seller, you don't have to make huge profit margins to have success. If you can temporarily list your products price lower than normal, you'll see more sales and start to build marketplace credibility. If your products are quality and you offer good customer support, it won't be long until you reach Featured Merchant Status. Once you do, you'll be able to increase the costs of your products and see more sales from shoppers that value great service and credibility over the lowest priced product.