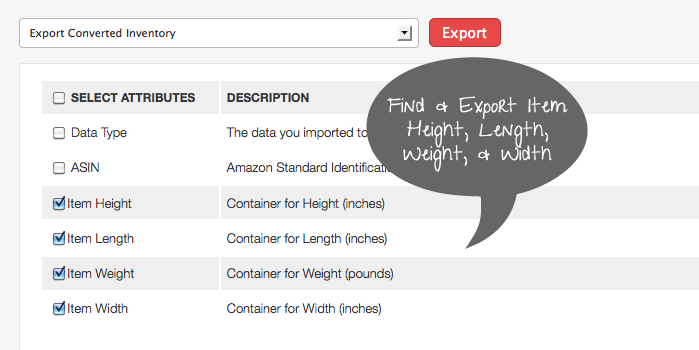 We recently added a feature for including the Amazon listing item dimensions as an export option. These item dimensions include the items Height, Length, Weight, and Width. Here's how it works:
Step 1: Import your existing inventory file containing one of the following unique identifiers: ASIN, UPC, EAN, SKU, ISBN, or MPN
Step 2: Convert the data using our system. This gathers all of the Amazon listing attributes.
Step 3: Export product attributes. This includes item dimensions (height, length, width, weight). Save the excel file to your computer. Each attribute is listed in its own column so you can do whatever you'd like with it.
In addition to finding the item dimensions to your Amazon products, our system offers a number of other listing attributes that you can export. You can find those on the export page of your account.