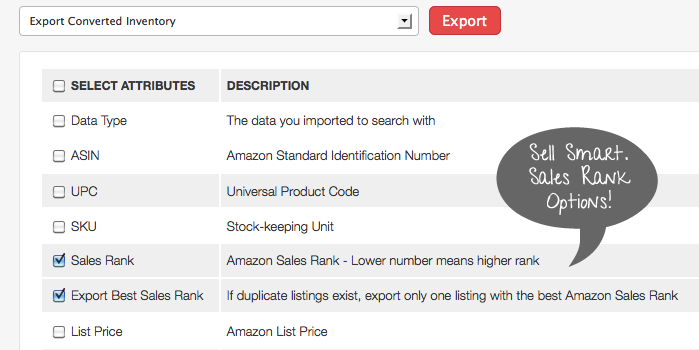 It's inevitable, newbie sellers are going to create new Amazon listings for products that already exist creating duplicate product listings. This begs the question, what listing should you sell on? Selling on all of them might get you on bad terms with Amazon – we've seen it happen quite a few times. But, only selling on one might cause you to lose valuable sales. Our tool has an integrated feature that lets you collect all product matching's, including duplicate listings, and export one listing with the best sales rank. Amazon rates each product listing based on Amazon.com sales and updates this calculation hourly to reflect both recent and historical sales of every item sold. The lower the sales rank, the better the product is selling in comparison to similar / duplicate items. Our system retrieves all of the items from your conversion, groups the duplicate items, and provides you with the option to export the best sales ranked item from those groups. Of course, you can still export all of the duplicate items along with the sales rank of each item if you desire.
Benefits to Selling on a Higher Sales Ranked Listing
There are a few benefits to selling on a better sales ranked listing. Since Amazon Sales Rank calculations are based on Sales, this is probably the number one and most obvious reason. However, it also tells us a few things about the products listing. One is that the listing likely has more visibility, either from Amazon or from a third-party. For example, higher sales ranked items tend to display higher in the category pages they belong to including the Amazon search results (assuming the search query relevancy is accurate). When we refer to a third-party site, this could be a high traffic page on another website, or even the organic search results of Google. Simply put, comparing duplicate listings, always list on the best (lowest) sales ranked item.